NEW FIREDOG Hunter Air Vest for SUMMER!
Published 13. 6. 2017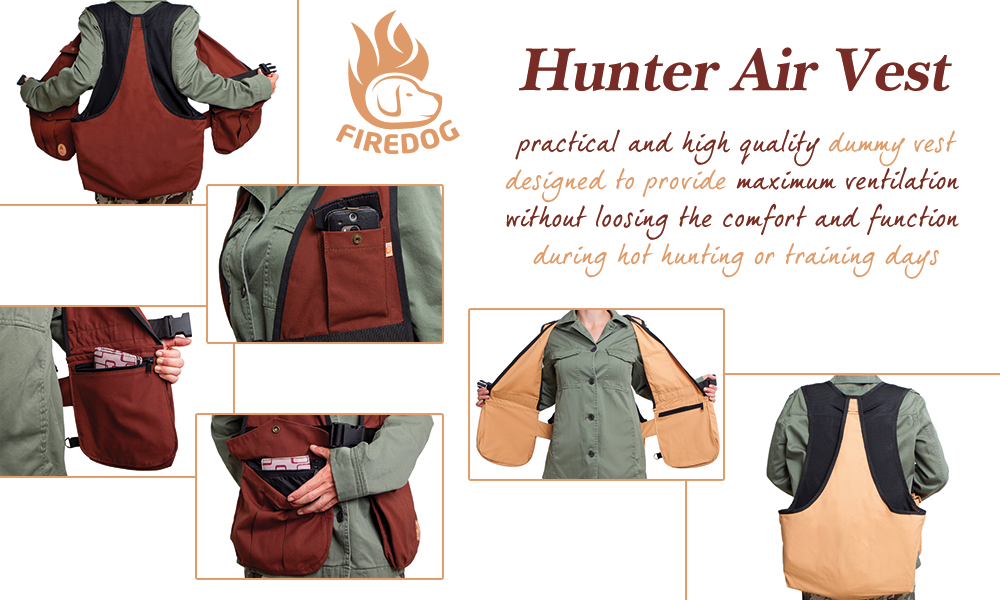 FIREDOG Hunter Air Vest is designed to provide maximum ventilation during hot days without loosing the comfort and function of the classic Dummy vest Hunter.

The lightweight design of the vest provides optimum air circulation and makes it more suitable for hunting or training in very hot weather conditions. Back bag is made from waterproof material inside.

You can put easily 8-10 dummies in the back bag. The front side and the dummy pocket are made of the light canvas and the back side of the vest is made of the mesh that is very light and comfortable for the handler. Two large front pockets provide enough space for other training tools and one small zipper pocket provides comfortable space for smaller things, such as phone, wallet or keys. On the left front pocket is a large zipper pocket inside, for wallet or important documents. In the small pocket with snap closure on the left chest you can easily put your cell phone. You can clip on the leash to the D-ring on the left pocket side.
AVAILABLE NOW in 3 basic colours - BROWN, LIGHT BROWN and BRICK RED!